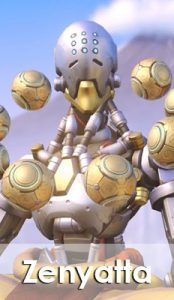 One of the most loved Overwatch 1 characters of all, Zenyatta is officially a Overwatch 2 character now. There's a lot about the enlightening Omnic to love, which is why Zenyatta is in Overwatch 2 despite not being a huge story presence. Here's what we know about Overwatch 2 hero Zenyatta up until now.
Zenyatta Gameplay Changes in Overwatch 2
Overwatch 2 character Zenyatta has 3 abilities in Overwatch 1, and they are based entirely on his lore and character. This is why there's no surprise Zenyatta's abilities in Overwatch 2 are still the same as before. There's not many gameplay changes to talk about when it comes to Overwatch 2 hero Zenyatta, and that's because Blizzard has barely given Zenyatta mains any info about the character, as usual. Even any news about the impact of the new Talents feature on Zenyatta in Overwatch 2 hasn't been discussed, and none of the hero's talents have been confirmed either. Zenyatta mains will have to continue waiting a while before they finally have something to look forward to.
Zenyatta in Story
When it was revealed that every single character will have their own missions in Overwatch 2, it must be said that some of the most excited to hear this news were all those that play Zenyatta. There has been barely any lore shared about Overwatch 2's Zenyatta, but it is very likely that this will change with the story missions. We'll finally get a view on things from Zenyatta's side, and it is possible that we'll get to learn much more about his backstory as well. How he'll be effecting the main storyline is yet to be seen though, which is another thing to look forward to regarding Overwatch 2.
---
---
---