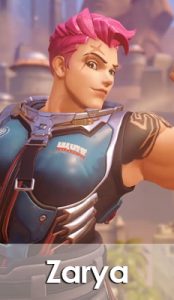 Overwatch 2 has Zarya and all other characters from the first game, as well as some new faces which are yet to be fully revealed. The Russian brute is a favorite in game thanks to her amazing abilities, and now Zarya is an Overwatch 2 hero as well as confirmed by the developers. Speaking of her abilities, here's everything you need to know about Zarya's abilities in Overwatch 2 and other details.
Zarya's Overwatch 2 Gameplay and Other Changes
Overwatch 2 hero Zarya has had information shared about her gameplay from the developers, but it isn't anything interesting to get excited about so far. The first thing that some will actually be happy to hear is that Zarya's Overwatch 2 abilities will be the same as her amazing ones currently.
Zarya in Overwatch 2 will have one big common change though, like all other characters. This change was announced during Blizzcon 2019 and focuses entirely on her abilities in hero missions that are played multiplayer against computer controlled enemies.
These are Talents, but there's not much to get excited about them as Zarya's are yet to be revealed. Speaking of Overwatch 2 character Zarya and story missions, here's what we can expect from her in them.
What Role Will Zarya Play in Overwatch 2?
Overwatch 2 character Zarya isn't a member of Overwatch, and she certainly isn't a member of Talon either. She is one of the good guys, as she cares about protecting her motherland of Russia more than anything. We can expect that her role in the story missions will be related to her love for her country, and we'll probably see her teaming up with members of Overwatch to defend her home from threats.
---
---
---