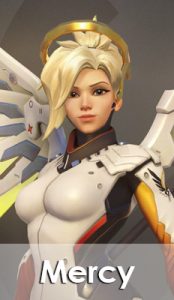 Overwatch 2's Mercy is by far one of the most popular characters from Overwatch and is also the most used support character. She's also highly important to the main story so there's no surprise that Mercy is in Overwatch 2. Here's a rundown of everything important that's been confirmed about her in the sequel, including new Mercy abilities in Overwatch 2 and more.
Important Changes to Mercy
There's not much to be noted so far when it comes to noticeable changes to Overwatch 2 hero Mercy. She has new design which we got to see in action during the Overwatch 2 announcement trailer. Apart from this though, there's little to say about Mercy's Overwatch 2 abilities or any major gameplay changes. We do know now for sure that she'll be getting new abilities called Talents which can only be used during PvE. The only problem is that the specific talents of hers' haven't been revealed so far and it is unlikely that they will any time soon unless there are more leaks. Overwatch 2 character Mercy also won't be receiving any new abilities for PvP multiplayer, which is to be expected.
Mercy in Overwatch 2's Story Missions
As we saw in the announcement trailer for Overwatch 2, Mercy was one of the many ex-members of Overwatch that answered Winston's call to battle. This was actually a surprise for most, as Overwatch 2 hero Mercy wasn't entirely against the disbandment of Overwatch based on her dialogue and interactions from the first game. But all that likely doesn't matter anymore, as she'll now be helping her Overwatch allies in battle in the story missions.
Based on her relatively high role, it is also likely that she'll be playing a bigger role in said story missions as well. This is good news for all those that main Overwatch 2 character Mercy, is bound to get quite some screen time and a lot of development.
---
---
---