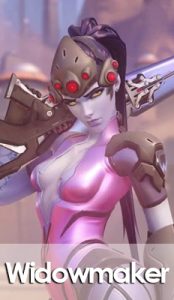 Overwatch 2's Widowmaker is one of the only snipers in the entire game. She is one of the many highly popular characters from Overwatch 1, and she's going to be in Overwatch 2 as well. Here's the most important stuff you need to learn about Overwatch 2 hero Widowmaker.
Gameplay and Abilities
All those that main or intend to main Overwatch 2 character Widowmaker will be disappointed to hear that there's nothing too much to discuss about her gameplay in the upcoming sequel. That's because there's barely been any info given about Widowmaker's Overwatch 2 abilities. Blizzard did say that there's not going to be too many major changes to PvP gameplay, so it is very likely that Widowmaker's abilities in Overwatch 2 will remain the same as they were in the original.
There are the Talents of Overwatch 2 character Widowmaker to look forward to though. But the specifics of these newly added Talents of Widowmaker in Overwatch 2 aren't known at all.
The only confirmed bit is that the talents are a means of greatly improving the abilities of Widow in the highly anticipated PvE multiplayer story missions that are being introduced in Overwatch 2. Further info about her talents is likely to be shared some time before release.
Widowmaker's Overwatch 2 Story
Overwatch 2 hero Widowmaker is one of the characters with the most disturbing and tragic backstories of all, and she is only a hero by name. In reality, she couldn't be further from being a hero. She is one of the many main operatives of Talon and will likely be going against Overwatch in her story/hero missions that we'll get to play in Overwatch 2. Her missions will focus on Talon's side of things or her backstory, and there's pretty much no doubt about that.
---
---
---