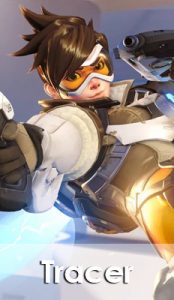 Overwatch 2's Tracer is the poster girl for the first game and likely the second one as well. There's absolutely zero surprise among anyone that Tracer is an Overwatch 2 character. Continue reading below to learn more about her in Overwatch 2.
All Major Changes to Tracer
In the announcement trailer for the game, players instantly noticed one big change to Overwatch 2 hero Tracer, which was her design and attire. But that's not the biggest news we've heard regarding her in the sequel, as an entirely new mechanic has been revealed. This mechanic is Talents, and it is something which makes the Overwatch 2 abilities of Tracer and other characters even better than they are. All those that main Overwatch 2 character Tracer will love to hear that her Talents have been revealed completely, unlike most other characters in the game. The talents which players can choose to upgrade Tracer's Overwatch 2 abilities are the following.
Adaptive Reload is a talent which allows her to reload instantly when using any ability. Chain Reaction which damages all enemies effected by her Pulse Bomb with additional bombs that are smaller. A Flash Talent which allows Overwatch 2 hero Tracer to deal damage to any enemy by using Blink through them. Hindsight is another amazing Talent of hers which causes additional damage to any enemy that was damaged recently whenever Tracer uses Recall. Lastly, her last two talents are her Vortex which pulls enemies towards Tracer when she uses Recall, and arguably the best of all, Speed Kills which reduces the cool down of abilities after each killing blow.
Tracer's Story Role
There's really nothing to say about Tracer in Overwatch 2 from a story perspective. Everyone knows that she'll be playing one of the biggest roles, if not the biggest, out of every character in the story. You can expect to see plenty of the time bending Overwatch cover girl in story and hero missions.
---
---
---