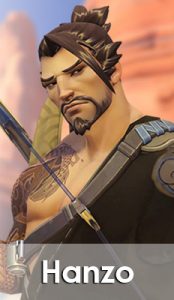 Overwatch 2 was announced back in 2019 during Blizzard's annual Blizzcon event, and we have learnt a bit more about the game and all its characters since then. One of the many things we've learnt about is Overwatch 2 hero Hanzo, one of the iconic Shimada brothers and a very popular Overwatch character. Here's all the confirmed details about Hanzo in Overwatch 2.
New Abilities and Gameplay
As you may know, the heroes of Overwatch will be maintaining the same abilities that they had in Overwatch 1 for the sequel. This also includes Overwatch 2's Hanzo. But one thing that you might not know is that said Overwatch 2 character Hanzo and the rest will be getting new abilities as well which can only be used during story missions.
Specifics about these new abilities have hardly been given except for a few exceptions. Good news for Hanzo mains is that he is one of these few exceptions.
One of Hanzo's new Overwatch 2 abilities has already been revealed and it is definitely a great one. Named Sojiro's Guidance, this ability allows players to hit all enemies detected by Hanzo's 'Sonic Arrow' with a single arrow. All players have to do is hit one detected enemy and the rest will be automatically hit by the same arrow. This is what all we know about any new Hanzo abilities in Overwatch 2.
Role in Story
What's interesting to note is that we've already seen some footage of Overwatch 2 hero Hanzo fighting enemies in PvE story missions. This means that Hanzo will be a part of the story and he could have potentially chosen a side between Talon and Overwatch. He was shown to be a neutral character in Overwatch 1, not being good or bad, nor being affiliated with either Talon or Overwatch despite getting many offers from both because of his amazing strength. Lots of fans have been wondering what Overwatch 2 character Hanzo's decision will be, and we might finally get to see in these story missions.
---
---