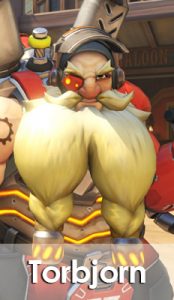 Overwatch 2's Torbjorn was one of the characters that most loved in Overwatch 1, but hated to see him in an enemy team. His turret is one of the most annoying things to go against in Overwatch 1, and it'll be returning alongside Torbjorn in Overwatch 2. Here's everything we know about the craftsman, Overwatch 2 character Torbjorn, in the upcoming sequel to the first Overwatch.
Torbjorn's Changes to Gameplay and Confirmed New Talents
Overwatch 2 hero Torbjorn is set to return to battle in the sequel and bring his annoying turrets with him. There are no foreseeable changes to Torbjorn's Overwatch 2 abilities as they look to be the same as Overwatch 1. There is set to be a huge tweak to them though. This tweak to Overwatch 2 Torbjorn's abilities the Talent system confirmed for the sequel.
Overwatch 2 character Torbjorn is one of the only characters in the game to have gotten some of his talents confirmed so far.
One of his confirmed talents is his Flame Thrower which effects his turret by replacing its gun with a flamethrower. The other talent of his is 'My Babies', which also effects his turret by replacing his base turret with 3 smaller baby turrets. Many players will be very thankful that these changes aren't coming to PvP multiplayer, as they would make his turret even more annoying.
Story Missions
Quite surprisingly, Overwatch 2 hero Torbjorn was missing from the Zero Hour announcement trailer in which Overwatch was officially brought back to business. Many thought that he might have retired and opted for a more peaceful life, but that's been ruled out as he is confirmed to be a part of Overwatch 2. We know for sure that he'll be helping his Overwatch friends in whatever way he can, but just how major his role is remains to be seen when Overwatch 2 releases.
---
---
---